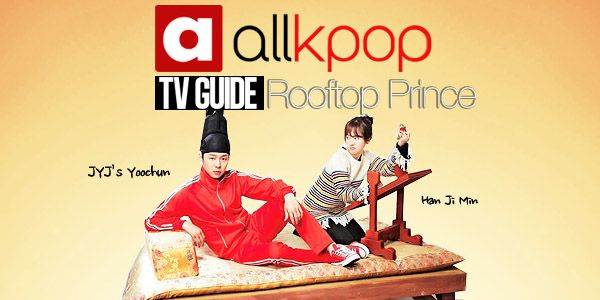 A prince from the Chosun era, Yi Gak (

JYJ

's

Yoochun

), along with his entourage, which includes Song Man Bo (

Lee Min Ho

), Do Chi San (

Choi Woo Shik

) and Woo Young Sul (

Jung Seok Won

), are catapulted 300 years into the future. As he attempts to investigate the suspicious circumstances surrounding the death of the princess he loved, he unexpectedly finds himself in the city of Seoul in the year 2012, where he comes across a woman who looks exactly like his beloved crown princess…
Yi Gak is able to rescue Park Ha (Han Ji Min) from the frozen truck, with Yong Sool's help, giving up Tae Young's cell phone to Tae Mu. Meanwhile, CEO Jang reveals the truth to Se Na, that she is in fact her true daughter, inviting her to go to Hong Kong with him. After Park Ha recuperates, Yi Gak, posing as Tae Young, and Park Ha frighten Tae Mu when "Tae Young" acts like he recognized Park Ha from New York. Park Ha also reveals the postcard with the portrait Tae Young had drawn of her. Tae Mu makes Se Na steal Tae Young's laptop with the NYC photos, and Tae Young's grandmother catches her red-handed. Grandmother tries to follow her and ends up falling down the stairs, dying in a pool of blood. Tae Mu urges Se Na to leave for Hong Kong immediately with CEO Jang, but the plan is interrupted when Park Ha reveals to CEO Jang that she is In Joo. Depressed, Se Na leaves for her apartment, waiting for Tae Mu to arrive, but Yi Gak enters the apartment first. Se Na, believing Tae Mu had arrived, asks how Tae Mu can stand brazenly in front of Grandmother's burial, angering Yi Gak as he punches Tae Mu who enters the scene.
"Tae Young", who is actually Yi Gak, threatens that Tae Mu and Se Na will pay, leaving the apartment angrily and visiting the real Tae Young in the hospital. While Yi Gak goes on a date with Park Ha, he begins to disappear, scaring himself. Meanwhile, Grandmother's lawyer gathers the family to announce that Grandmother had left the company to Tae Young, but if Tae Young was not present at the will reading, then Tae Mu will inherit the company. Tae Mu begins forming his evil plan, and leaves a bag of cash and a plane ticket in Yi Gak's car, framing Yi Gak as an impostor of Tae Young who was planning to steal Grandmother's money. Yi Gak is thus arrested, while the family convenes the will reading. Park Ha visits Yi Gak in jail and shows him the initials on Bu Young's handkerchief. which denotes Bu Young as the actual maker. Yi Gak vanishes completely and reappears outside of the will reading room, where he interrupts the process.
Yi Gak later meets up with Tae Mu and threatens him and Se Na with the news that Yi Gak will have them arrested on the account of Grandmother's death if they do not resign and return the stolen money. Tae Mu enlists Se Na's help and beings plotting against Yi Gak. Se Na, acting sad and remorseful towards Park Ha, texts Yi Gak with Park Ha's phone to meet at the reservoir. Park Ha catches on to Se Na suspicious activities, but brushes it aside. Meanwhile, Se Na, dressed as Park Ha, meets up with Yi Gak. Yi Gak tries to catch her, but Tae Mu drives straight for him. Meanwhile, Park Ha puts the pieces together and catches Tae Mu driving into Yi Gak. Pushing Yi Gak aside, Park Ha stands in the way of the oncoming car.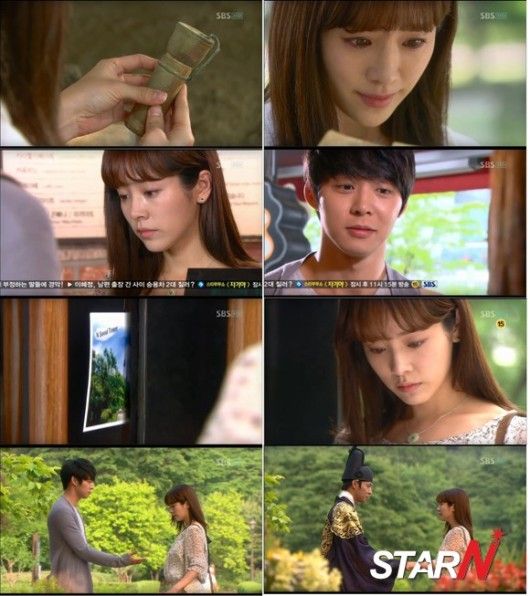 Park Ha is rushed to the hospital after Tae Mu sends her flying into the lake. Her liver is injured and Park Ha's health begins to deteriorate. Se Na is unnerved at the murder attempt, but at Park Ha and with Yi Gak's urgent pleas, agrees to transfer her liver if Yi Gak gives up all the company money. While Se Na is ready to transplant her liver, Tae Mu has other ideas and hopes to escape to China with the money, breaking the arrangement. However, Se Na ultimately goes to the hospital and saves Se Na's life, while Tae Mu is arrested after fighting with Yi Gak.
As Park Ha recuperates, her peace is interrupted by the abrupt disappearance of Chi San. In order to live happily in the remaining precious moments, she proposes to Yi Gak. After pondering Park Ha's request, Yi Gak agrees, and goes on a date with her in the palace grounds, only to be interrupted again by the disappearance of the two other servants. Park Ha and Yi Gak go to her house, where they have a symbolic wedding. After Yi Gak and Park Ha kiss, Yi Gak begins to fade away, leaving Park Ha sobbing for him.
Yi Gak returns to the Chosun era and returns to his prince position with the help of his courtiers. Meanwhile, Minister Hong (father of Hwa Young and Bu Young) and his partner, the reincarnation of Tae Mu, are disturbed that Yi Gak is alive even after the assassination attempt. Yi Gak summons Minister Hong, and reveals what exactly happened with the murder.
Minister Hong had sent Bu Young a letter for Hwa Young with poisoned powder that would be placed on Yi Gak's persimmons. Bu Young reads the letter, and alarmed, enters Yi Gak's room, where she finds him talking with Hwa Young. Answering Yi Gak's riddle herself, she asks to eat the persimmon to save the Prince's life.
Hwa Young is shocked by Bu Young's impending death and meets up with her secretly. The two switch identities as Bu Young drowns in the lake. In the present Chosun era, Yi Gak orders the execution of Minister Hong and the reincarnation of Tae Mu, sparing Hwa Young and her mother. Yi Gak reads Bu Young's last letter, and writes his own to Park Ha, which Park Ha finds in the palace in the present time.
Later, she notices another postcard of her that Tae Young drew, and meets him in the Seoul Tower. Park Ha shakes hands with Tae Young, who momentarily switches to Yi Gak in her vision.
[Note : This post reflects the opinions of the author, and not necessarily those of

allkpop

.]
Wow. Just went through a rollercoaster of emotions, ending in a tranquil melancholy with the final moment of 'Rooftop Prince'. Although the last few episodes were a turmoil of messy, unceremoniously dropped conflicts and resolutions, and

makjang

elements, I though the last meeting between Tae Young (the reincarnation of Tae Young) and Park Ha was beautiful. I felt that Tae Young becoming a couple with Park Ha, with the reminder that it was still Yi Gak in essence, was the best ending it could possibly have without the beginning of Tae Young's loveline thrown in the trash. The drama, though, could have elaborated much more on the reincarnating theme of love and history, especially at the expense of the corporate family feud and the Se Na moments. There could have been much more connections drawn between Tae Young and Yi Gak that could make the meeting more poignant. The drama had concentrated much of its effort in making the Chosun and modern day conflict parallel each other that it lost a lot of Tae Young development. All we know about him is that he likes to draw, is a little rebellious, and makes a good vegetable. Even a small detail at the end could have made that moment more special, like the reappearance of the wedding pendant.